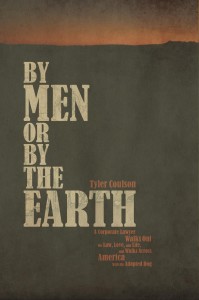 The story of a corporate law walkout who chucked it all to walk across America with his dog.
Here's what a few readers have had to say:
"As someone who has walked across the United States myself, I can confirm that what Tyler went through mentally and physically is presented incredibly well in this book. "
"Tyler Coulson took a job at a big corporate law firm and lost a bit of his soul. Then he quit that job to walk across the country with his dog, Mabel, and lost a bit of his mind. Then he wrote a candid (and amazingly non-self-indulgent) memoir about his journeys and reclaimed a bit of his spirit. I really dug the book and highly recommend it."
"It could very easily have been an Occupy Wall Street rant against corporate America or a crappy Herman Hesse knock off but instead it looks inward at the possibility that Tyler is sad and angry not because he's in a soul-crushing profession, but because he's Tyler. What Tyler finds isn't happy or zen, but it's honest…. What makes the book so dang good is that he's so honest about his delusions and misconceptions about happiness (and the effects of same) unlike so many other people."
It has a happy ending.
Buy it! Read it! You'll be happy you did.